SAC Capital 'takes responsibility' for insider traders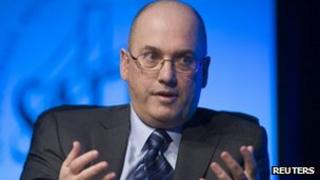 Wall Street hedge fund giant SAC Capital says it "takes responsibility" for a "handful" of insider traders within its operation.
The company issued a statement saying the traders were a "tiny fraction of wrongdoers" among 3,000 honest men and women.
On Monday, the US Attorney's office said SAC Capital had agreed to plead guilty to insider trading charges.
The office said the firm would pay $1.8bn (£1.1bn) to settle the charges.
SAC, founded and run by billionaire manager Steven Cohen, has also agreed to give up its investment advisory business, according to the Attorney's office.
Mr Cohen is one of the highest-profile figures in US finance. Ranked among the top 50 richest Americans, he is worth just under $9bn (£5.6bn), according to Forbes.
He has not personally been charged with any crime.
SAC's statement said it "never encouraged, promoted or tolerated insider trading".
'Systemic'
The fund was charged in July with four counts of securities fraud and one count of wire fraud.
Full details of the settlement are due to be revealed later, according to a notice sent by the office of US Attorney Preet Bharara.
The settlement comes after a seven-year-long investigation.
In July, SAC pleaded not guilty in a New York court and denied the insider trading charges.
Prosecutors had alleged that the fund was involved in "systematic insider trading" that allowed it to make hundreds of millions of dollars in illegal profits.
Prosecutors said the alleged crimes dated back to 1999 and continued until at least 2010.
Information 'edge'
They allege that SAC obtained inside information on publicly traded companies and traded on that information to boost returns and fees.
"[SAC's] relentless pursuit of an information 'edge' fostered a business culture within SAC in which there was no meaningful commitment to ensure that such 'edge' came from legitimate research and not inside information," court filings said.
At its peak, SAC Capital managed about $15bn in assets.