Nine Entertainment to raise $660m via share sale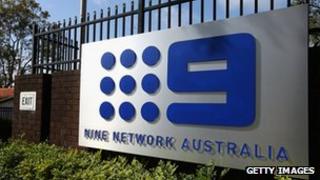 Australia's Nine Entertainment Co, which owns the Nine television network, is looking to raise as much as A$679m ($660m; £415m) via its share sale.
It will sell 125 million new shares at between A$2.05 and A$2.35. Another 179 million existing shares will also be put on the market.
It will make it the biggest share sale in Australia in almost three years and value the firm at up to A$2.2bn.
The sale comes just a year after the firm avoided going into administration.
"We are excited about the Initial Public Offering and providing new shareholders with exposure to our leading integrated portfolio of complementary media businesses," David Gyngell, chief executive of the firm said in a statement.
"A listing on the ASX will help us to continue our strong momentum and consolidate our position as a leading free-to-air TV network in Australia, maintain our strong industry position and expand the Nine Events business."
Nine also owns the ticketing services provider Ticketek as well as Australia's largest indoor music venue.
The firm acquired television stations in Perth and Adelaide this year.
In a statement accompanying the prospectus for the share sale, its chairman, David Haslingden, said the company's revenue was A$1.5bn in the last financial year.