Co-op chairman Len Wardle to step down in May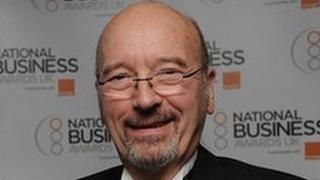 The chairman of the Co-operative Group, Len Wardle, is to step down in May.
Mr Wardle said he had informed the board in August of his decision.
"The Co-operative Group is at its best when it is reforming and I want this change to continue," he said in a statement.
On Monday, the mutual group said it would lose overall control of the Co-op Bank following a restructuring of a rescue deal, which will provide the bank with extra capital.
The change means the group will end up holding just a 30% stake in the bank. Under its original plan it would have held a 70% stake.
Mr Wardle's move comes just hours after the former chief executive of the Co-op Group, Peter Marks, appeared at the Treasury Committee of MPs to explain its decision to try to purchase 632 Lloyds bank branches.
Banking woes
Co-op Bank pulled out of the deal in April, which is when its financial problems came to light.
Speaking about the hearing, the chairman of the Treasury Committee, Andrew Tyrie, criticised the former management for its conduct, saying: "Being owned by a mutual, the Co-op Bank differed from most of its competitors. But on today's evidence, its shortcomings did not."
"A lack of personal accountability at senior levels, ineffective corporate governance and insufficient experience and expertise among those taking the decisions. This has become a familiar story."
In June, the Co-op Group announced a plan to plug a £1.5bn capital hole in Co-op Bank's balance sheet.
The group intended to put in £1bn of capital itself, with £500m coming from bondholders and owners of preference shares.
The bank would then have been floated, with Co-op Group holding a 70% share. However, the bank's creditors, led by US hedge funds, rejected the plan.
Mr Marks said the mutual group's loss of overall control of the Co-op Bank was "a tragedy".
'Immensely proud'
However, he added that the plan to buy the bank branches from Lloyds had offered a "great opportunity".
"The bank was sub-scale, it needed to build scale to compete and survive. Verde [the Lloyds branches] created a great opportunity to do that and bring in significant capital and a high quality chief executive," he said.
Speaking about his departure, Mr Wardle, who chaired the group for six years, said he was "immensely proud" of his time there.
"During the last year, we have appointed Euan Sutherland as group chief executive officer and started the changes that I believe will make The Co-operative Group stronger than ever," he added.
Mr Sutherland said Mr Wardle's guidance meant the group had "made significant progress on beginning the reform which we will announce as planned in May 2014".