House price increase at three-year high, Halifax says
3 October 2013

From the section

Business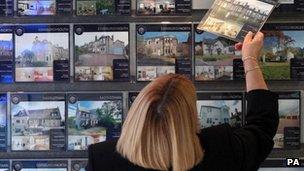 House prices are rising at their highest annual pace for more than three years, the Halifax says, as demand for properties continues to rise.
Prices in the three months to September were 6.2% higher than a year earlier, the highest rate since June 2010.
Prices rose by 0.3% in September compared with the month before, taking the average house price to £170,733.
However, the average price of a home still remains 14% below the peak reached in August 2007.
Last week, the Nationwide said that house prices rose at an annual pace of 5% in September.
Greater supply
The Halifax said demand for property was rising thanks to low interest rates and improving consumer confidence.
It added that government schemes - such as Funding for Lending and Help to Buy - also appeared to have increased demand for housing.
The recovery in property prices over the past few months has led to concerns that the market could be in danger of overheating.
However, others note that prices and activity still remain well below levels seen before the financial crisis, and that the rise in prices has been centred around London and the South East.
The Halifax added there were signs that more properties were starting to come on to the market, which could begin to slow price increases.
"The recent strengthening in house prices is increasing the amount of equity that many homeowners have in their home, enabling more to put their property on the market for sale," said Martin Ellis, housing economist at the Halifax.
The Halifax also noted that levels of housebuilding were starting to increase.
On Wednesday, a survey of the UK's construction sector suggested that housebuilding activity grew last month at its fastest pace for almost a decade,