Cash worries 'leave women saving less than men'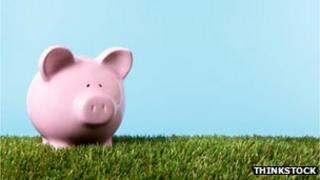 Financial pressure on women means they are saving less of their incomes than men, for the first time in two years.
Research for National Savings and Investments (NS&I) suggests men are putting away 7% of their income, whereas the figure for women is 6.84%.
That is the first time since the summer of 2011 that women have saved less than men.
The figures show women's savings are also at their lowest level for nearly three years.
"It appears women are under most pressure financially with their savings dropping to 6.84% of their income each month, £72 in real terms," said John Prout, NS&I retail customer director.
"They haven't been quite so low since autumn 2010," he said.
The research also showed that 24% of women make no savings at all from their monthly incomes.
NS&I said levels across the board were "not encouraging."
The average amount put away was £88 in the last quarter, compared to £104 in the previous quarter.