Anglo American boss says profits 'unacceptably poor'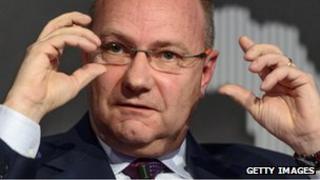 The boss of Anglo American, Mark Cutifani, has described his company's profits as "unacceptably poor".
The mining giant reported a 68% drop in first-half profits, after it was hit by falling commodity prices, as the global economic picture remained weak.
Profits after tax fell to $403m (£262m) for the six months to the end of June, compared with $1.254bn in 2012.
Mr Cutifani promised to cut spending and halve the number of pipeline projects.
He also said the company would boost production at underperforming mines.
"Our performance at the operating level, compared to our budgets, has been unacceptably poor," Mr Cutifani said.
"Over the last eight (quarters) only 11% of operations are delivering consistently against their targets - we have to up that," he added.
He also said he wanted a "more disciplined approach to planning, to execution and delivery".
Mr Cutifani was appointed chief executive back in April, when he took over from Cynthia Carroll.
However, Anglo American did see some benefit from improvements certain areas of production and a fall in the currencies of the countries where it operates.
As such, the company's underlying operating profit only fell 15% to $3.262bn during the first half.
Tough times
Anglo American is the smallest of the big international mining companies and its shares have not kept pace with the likes of Rio Tinto and BHP Billiton in recent years.
Anglo has had some big issues to deal with, most recently labour unrest at its operations in South Africa and multi-billion dollar cost overruns at its Minas Rio iron ore project in Brazil.
By slashing costs and pipeline projects, simplifying the company's management structure and improving the performance of its assets, Mr Cutifani is hoping to improve cashflow by $1.3bn within three years.
He also intends to raise the return on capital employed (ROCE) to 15%, from its current 11%. ROCE is a crucial figure mining companies use to measure the value of the assets they own.