Network Rail bosses get £2m bonuses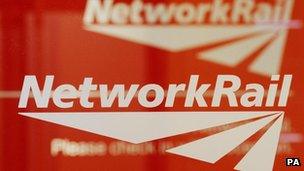 Five Network Rail bosses will share £2m in bonuses if they hit performance targets as part of a new deal.
The bonus package was agreed by members - the equivalent of shareholders at the not-for-profit company - at their annual meeting earlier.
It was voted through despite criticism from unions, who described the bonuses as "rewarding failure".
Network Rail narrowly missed its target for train punctuality last year, but met other targets.
It met targets for passenger satisfaction and financial efficiency.
86% of members backed the pay deal at the meeting in Cardiff, despite demonstrations by union members outside.
The Transport Salaried Staffs' Association (TSSA), which represents 30,000 rail employees, had urged members to vote against it.
"This is daylight robbery of the taxpayer," said general secretary Manuel Cortes. "These executives are rewarding themselves for failure. Passengers will be furious having seen fares increase by 16% since 2010 and more big increases to come."
But Network Rail chairman Richard Parry-Jones, who is not in line for a bonus, said the company had seen a year of "solid progress" in 2012.
"Network Rail executives are rewarded only when exceptional performance exceeds tough targets... if targets are not met, or safety compromised, no bonuses are made," he said.