Morgan Stanley reports jump in quarterly profits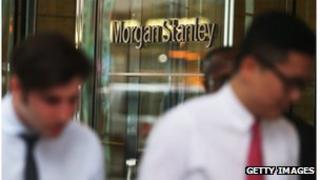 Morgan Stanley has become the latest US bank to reports a surge in profits.
It reported net income of $980m (£644m) for the second quarter of the year, up 66% on the same period last year.
Like rival Citigroup, the bank's share trading division had a very strong quarter, with revenue up 58% from a year earlier to $1.81bn.
Total revenue for the quarter rose to $8.3bn up 4% on 2012. The bank spent 48% of that on staff compensation and benefits, down from 52% last year.
"This quarter, we saw significant year-over-year revenue growth in each of our five major business units and higher year-over-year profitability. Of particular note, equity sales and trading results were strong across all products and regions," said chief executive James Gorman in a statement.
The company also announced a $500m stock buyback programme after receiving approval from the Federal Reserve.
"They blew away our revenue number ," wrote Oppenheimer & Co banking analyst Chris Kotowski in a note to clients, adding "the revenue beat was pretty much across the board with investment banking, trading and commissions all doing a bit better than expected."
"Nothing not to like here."
Shares rose to their highest level in more than two years on the good news, to $27.53, and the S&P 500 reached an intraday record, climbing above 1,687.18 for the first time.
Banking on profits
The main US banks have all been reporting large increases in second quarter profits.
Last week, JP Morgan reported a 31% rise in profits, and this week Citigroup, Goldman Sachs and Bank of America have all posted hefty profit increases.
US banks have benefited from a recovery in the US economy and continued efforts by the Federal Reserve to boost growth and employment.