Sports Direct profits rise triggers staff bonus payout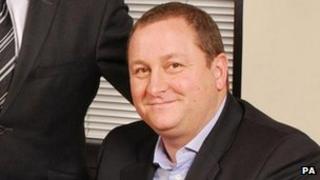 Some Sports Direct staff are to share a £126m shares bonus after the retailer posted a big jump in sales and profits.
About 21 million shares will be distributed to 2,000 of its 24,000 staff under a bonus scheme.
It follows what chief executive Dave Forsey said was a "record-breaking year", with pre-tax profits up 40% to £207.2m and sales up 30% to £2.19bn.
The 400-store retailer, 64%-owned by Mike Ashley, has seen its shares rise more than 40% over the past year.
The company, which also owns Sports World and Lillywhites stores as well as brands such as Slazenger and Dunlop, said the bonus would be worth 75% of base pay for the majority of eligible employees, with others receiving about 25% of salary.
Mr Forsey said the company's trading performance was boosted in the first half of the financial year from the Olympics and football's European Championships.
Sports Direct said trading for the first few weeks of the current financial year had been ahead of expectations.
However, there was also some caution. "Recent out-performance versus management expectations may not continue for the full year. Fiscal year 2014 is a non-tournament year which will make [last year] a tough comparator following the UEFA European Championships and the London Olympics," the company said in a statement.