Bank of America profits leap on cost cutting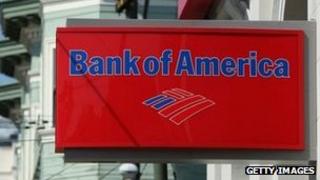 Bank of America has reported a sharp rise in profits of 70%, largely thanks to cost-cutting measures.
Second quarter net income at the bank rose to $3.57bn (£2.35bn), from $2.10bn in the same period a year ago.
The bank has been cutting costs and jobs since chief executive Brian Moynihan took over at the beginning of 2010,
Expenses were cut back by about 6%. to $16bn from $17bn. The bank has cut about 18,300 jobs over the past year.
Bank of America plans to have lowered costs by $8bn by 2015.
In the second quarter the bank also benefited from lower litigation costs, having settled a number of high-profile lawsuits related to its mortgage unit.
Total revenue was $22.9bn after stripping out one-time charges, an increase of 4% on the same time a year ago.
Bank of America's shares ended the day's trading 2.8% higher.
"We are doing more business with our customers and clients, and gaining momentum across every custom group we serve," said chief financial officer Bruce Thompson.
"We must keep improving, but with the consumer recovering and businesses strong, we have lots of opportunity ahead."