US retail sales growth slows unexpectedly in June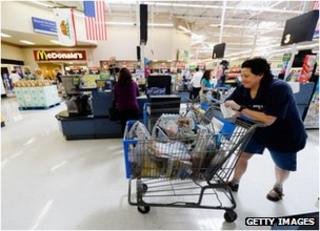 US retail sales grew in June, but at a slower rate than was expected by many analysts.
Sales were up by a seasonally-adjusted 0.4%, half the 0.8% rate expected by the markets.
Sales of building materials - often a volatile item - fell 2.2% in the month, according to the Commerce Department.
The sub-par performance added to expectations that the Federal Reserve will wean the US off economic stimulus more slowly than previously indicated.
Car sales - which can also vary greatly from month to month - jumped 2.1%, while furniture and household goods rose 2.4%.
Total retail sales in June were 27.5% up from their level at the bottom of the recession in mid-2009.
The figures come on top of weaker trade and manufacturing data, pointing to a softening in the US recovery.
"The disappointing rise in retail sales values in June increases the chances that GDP grew at an annualised rate of less than 1% in the second quarter," said Paul Dales, US economist at research firm Capital Economics.
"Even more worrying is that sales growth appears to be losing momentum heading for the third quarter."