US retailers in Bangladesh safety accord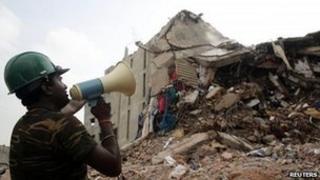 A group of 17 US retailers, including Wal-Mart and Gap, have agreed a five-year pact to improve conditions at clothing factories in Bangladesh.
It follows the deaths of 1,129 workers in a building collapse in April and another 112 in a fire in November.
It includes loans to help factories improve safety and inspections of all factories within a year.
On Monday, a group of mainly European firms, including Benetton and H&M, announced a similar move.
There were reports that some US firms were against joining this other, legally-binding, accord because they feared it could expose them to unlimited liabilities.
In a statement, the US firms said: "The safety record of Bangladesh factories is unacceptable and requires our collective effort.
"We can prevent future tragedies by consolidating and amplifying our individual efforts to bring about real and sustained progress."
Earlier this year, the US Labor Department gave Bangladesh $2.5m to ensure workers were better protected.
There are more than 4,500 clothing factories in Bangladesh, employing more than 3.5 million people, the majority of them women.
The garment industry makes up 80% of the country's exports.