Borrowers turn to family and friends, says debt report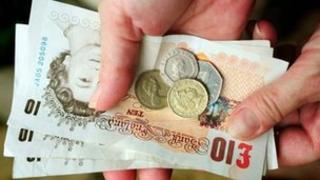 Average household debt has risen by more than 40% in the past year, with a large chunk being owed to family and friends, a survey has suggested.
Some £2,000 of the average £13,000 owed by each household came from friends and family, the same amount as borrowed on credit cards, it said.
The Aviva Family Finances report studies data from 18,000 families.
It suggested that families' incomes had risen, but average debt had also increased from £9,000 a year ago.
Some 5% of families were using payday loans, while 3% were using pawnbrokers, the report said.
Peter Tutton, head of policy at debt charity StepChange, said the report showed the "increasingly fragile nature" of many household budgets.
The Aviva report suggested that saving was on the rise, despite the tiny returns offered by many accounts at present.
"As money matters improve in one area, this is often offset in another. It is great to see that families are saving more than ever, but slightly concerning that debt levels are continuing to climb," said Louise Colley, protection distribution director for Aviva.