Mining firms' mishaps prompt City investors' angst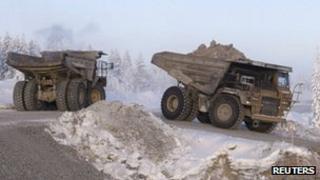 The City of London prides itself on being the best place in the world for entrepreneurs to raise money. But is it too easy to raise money here, when much of that money comes from British pensioners and investors?
Two high-profile corporate disaster stories have prompted a bout of soul-searching in the Square Mile.
They're both mining companies from overseas, both relatively new to the London Stock Exchange, and both worth less than a fifth of what you could once have paid for them.
Critics argue that the stories of those companies, Bumi and ENRC, have dented the City's reputation as a financial centre.
The regulator, the Financial Conduct Authority, is now reviewing the rules about who can sell their shares in London - and what safeguards exist to protect investors.
A scene last month at the Honourable Artillery Company highlighted the contradictions of the City in the 21st Century.
Nearly 500 years old, it's a bastion of Square Mile tradition, its HQ resplendent with antique cannons and field guns.
Many of its part-time soldiers are City workers.
It's a long way from the coal mines of Kalimantan in Indonesia.
But the board of Bumi, the country's largest coal producer, chose to hold its annual general meeting there, because it's listed on the London Stock Exchange.
Mining companies make up about 8% of the FTSE 100 share index. Their value was boosted by Chinese demand for raw materials, but China's economic slowdown has recently dragged global commodity prices down again.
Value 'bleeding'
At Bumi's AGM, chief executive Nick von Schirnding began his speech with an apology for the fact that the company's shares had been suspended and about $200m (£130) had gone missing in a subsidiary.
Shares are down more than 80% since their peak and many in the City are now asking whether Bumi and other exotic newcomers should be listed in London at all.
It's a debate which matters far beyond the City. Many pensions and investment funds buy into every one of the FTSE 100 and 250 listed companies on the London exchange, which includes both ENRC and Bumi, and a number of other companies that have investors worried.
"With many of these companies that have listed, it has been quite clear that things haven't been right from day one," says Tim Bush, head of governance at PIRC, a consultancy which advises a number of pension funds.
"Everybody will own a share in these companies. They will be diluting the value of your pension fund. Your fund manager is being forced to invest and you are getting a negative return. Value is bleeding out."
Working out which companies to allow in, and which to reject, is not straightforward. Many of the companies that have raised concerns are international mining groups, often based in the former Soviet Union.
But excluding foreign miners would hit companies that have successfully traded their shares on the London stock exchange for decades, sharing their profits with British investors. For example, Antofagasta, a Chilean mining and infrastructure company, has been listed in London for over a century.
Boardroom battles
There is also the question of who controls the companies. Take the case of ENRC, a Kazakhstan-based mining firm that has been struck by a bitter boardroom row and now faces a Serious Fraud Office investigation.
More than half the shares are in the hands of the Kazakh government, or a trio of Kazakh businessmen with strong links to the government. Other investors, known in the City as the "free float", hold less than 20% of the shares, giving them little influence on the board, as they can always be outvoted.
The founders are now offering to buy the minority shareholders out, for less than half the price the shares launched for in 2007, a hefty loss for any pension fund that bought in on day one.
The FCA is reportedly considering changing the rules to bar companies from entering the FTSE indices if they only list a small proportion of their shares on the market. But this would bar a number of successful and well-governed firms, as well as problematic companies such as ENRC.
Ken Olisa was one of the independent non-executive directors of ENRC when it floated. He was then voted off in 2011, when the boardroom in-fighting began. But he still believes the City should invite companies like it to list in London.
"My view is we should do everything we possibly can to attract companies to London," he says. "Our wealth depends on the continued success of the City. However, and it's a big however, when those companies come to London, they have to conform to the governance rules of the UK. And London does have a lot of work to do."
Too open?
The FCA is expected to publish its updated rules in July and declined to comment until then.
Among other reforms, it is expected to ban certain more peculiar corporate structures and tighten the rules on disclosing transactions with related parties.
But whatever approach it eventually settles on, the debate continues about what the City is for.
Should it aspire to be a market open to the whole world, even if that brings the risk of allowing in a few poorly governed companies that cost British pension funds millions of pounds a year?
Iain Richards, head of governance for fund managers Threadneedle, says: "The engines of growth have been moving towards the East, companies will be coming to London to raise capital and we need to be pragmatic in the approach we take to it.
"There will be mistakes, there will be problems, but there will be a lot of success stories along the way as well. That's the nature of capital markets."
For small British investors and pension funds, the fact that their home market is also one of the world's great financial centres brings easy access to investment opportunities around the world, but it also brings hazards.
The City is now deciding how best to prevent those disasters being repeated.