Mitsubishi UFJ to buy control of Thailand's Bank of Ayudhya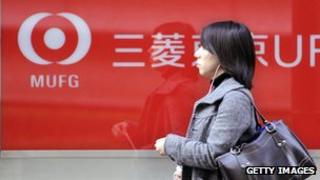 Japan's Mitsubishi UFJ Financial Group (MUFG) is planning to buy a controlling stake in Thailand's Bank of Ayudhya.
Japan's biggest lender has agreed to buy a 75% stake in the Thai bank for up to $5.6bn (£3.7bn).
If the deal goes through it would be the biggest purchase in South East Asia by a Japanese bank.
The deal would also see General Electric end its investment in Ayudhya, which goes back to 2007 when it bought a 33% stake in the bank.
Attracted by bright growth prospects, Japanese financial firms have been expanding in South East Asia.
In May, Sumitomo Mitsui Financial Group's bought a $1.5bn stake in Indonesia's Bank Tabungan Pensiunan Nasional.
The offer from MUFG still needs approval from Thailand's finance ministry, but in a briefing the Japanese bank expressed confidence that the deal would go through.