Tesco: Terry Leahy legacy criticised by former chairman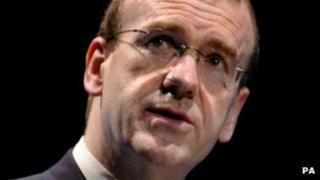 Tesco's former chairman Lord MacLaurin has criticised the legacy left by ex-chief executive Sir Terry Leahy.
He told the annual meeting that current chief Philip Clarke needed three years to revive the UK's biggest retailer.
Sir Terry is credited with turning Tesco into an international force, but Lord MacLaurin said a legacy of writedowns and exit from the US was "all very sad".
Mr Leahy could not immediately be reached for comment.
After being arguably the UK's most successful retailer for years, Tesco issued a profit warning in January 2012 and withdrew from the US after five years trying to crack the market with it Fresh & Easy chain.
Sir Terry became Tesco's chief executive in 1997, when Lord MacLaurin was still chairman. Shareholders enjoyed double-digit growth during Sir Terry's tenure, but the company began to struggle not long after he was replaced by Mr Clarke in 2011.
Lord MacLaurin told the annual meeting in London that a chief executive should not only be judged on his day-to-day performance, but also his legacy. "And I think that we are all very sad in this hall to see the legacy that Terry Leahy left," he said.
"It is a very sad situation - your enormous writedowns, (and) the situation in America," he added.
Recovery will not happen overnight, he said. "This job is going to be probably two or three years," he said, noting that when rival Sainsbury's hit trouble in the early 1990s it took the retailer more than five years to reposition itself.