RBS and Lloyds share sale advisers sought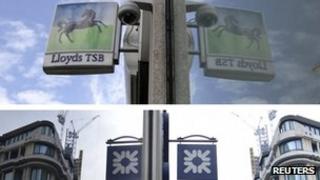 The government has begun the process of appointing advisers to help sell its stakes in Lloyds Banking Group and Royal Bank of Scotland (RBS).
UK Financial Investments has invited investment banks to submit proposals by 8 July.
Chancellor George Osborne last week said the government was ready to start selling shares in Lloyds.
It owns 39% of Lloyds and 82% of RBS following the bank bailouts at the height of the financial crisis.
Shares in Lloyds rose on Friday, and are now trading above the 61.2 pence regarded as the "break-even" level for the government.
But shares in RBS were down by mid-afternoon. They are still trading well below the range at which the government bought them.
No timescale
The appointment of advisers is standard practice before a share sale, but it is still unclear when shares in both banks will begin to be offered to private investors.
Although Mr Osborne last week said he was actively considering options for sales of Lloyds shares, he gave no timetable for the sale.
The government has suggested that shares in Lloyds would have to trade consistently above its break-even level before the stake is sold off.
RBS meanwhile has indicated that its massive restructuring programme may be largely complete by the end of the year, allowing it to begin returning to the private sector by the end of 2014.
The departure of chief executive Stephen Hester, due at the end of the year, was widely seen as a preparatory measure ahead of a return to the private sector.
But a report from the Banking Standards Commission, also released last week has suggested RBS could be broken up before any sale.
It is not clear which banks are planning to submit bids.
When UKFI sold its stake in Northern Rock in 2011, Deutsche Bank was the adviser.