Rent rises 'driven by London market'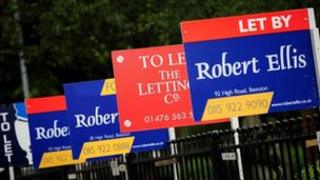 Rental prices have risen by 8.4% in England since May 2005, driven by an 11% increase in London, new official figures show.
Over the past 12 months, the cost of renting rose by 1.3% in England, 1.5% in Wales and 1% in Scotland, the Office for National Statistics (ONS) said.
This is the first time the ONS has recorded private rental costs, in what it describes as "experimental" data.
It plans to publish figures on average rental costs on a quarterly basis.
Regional picture
The data tracks rent changes in England since 2005 and the cost of renting in Scotland and Wales in the past couple of years.
During this latter period, a stalling UK housing market has generally pushed up demand for rental properties as first-time buyers struggled to get on the ladder.
The historical figures show that rental costs in England have risen steadily each year, except for falls in 2010.
Since May 2005, the change in rents has ranged from a 5.2% increase in the North East of England to an 11% rise in London.
In the past year, the cost of renting fell by 0.1% in the North East, and rose by 2.2% in London.
"Landlords looking to cash in on demand and turn a fast profit need to realise that tenants have an affordability ceiling. Rents can only go so high before people are priced out of an area altogether," said Matt Hutchinson, director of flatshare website SpareRoom.co.uk.
"This is especially true in London, which will become unaffordable for everyone but the wealthiest if current trends continue."
However, the British Property Federation (BPF) said the figures showed that the rising cost of renting was well below energy, food and transport price inflation.
"Private rents do not rise at the rate that is often perceived because most landlords do not raise rents every calendar year, but only when a tenant moves on, which is typically every 20 months or so," said Ian Fletcher, director of policy at the BPF.
UK annual house price inflation stood at 2.6% in April, according to the latest ONS figures.
But there are still huge variations across the country. Prices in London rose by 6% in the 12 months to April 2013, but in Scotland they fell by 1.2% and in Northern Ireland they were down 0.8%.