Eurozone output falls at slowest rate for 15 months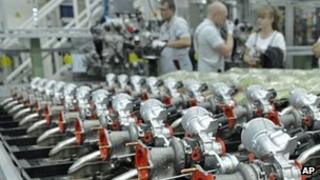 The downturn in the eurozone's services and manufacturing sectors eased in June as output fell at its slowest rate since March 2012, a survey suggests.
Markit's composite purchasing managers' index (PMI) for the eurozone rose to 48.9 in June, up from 47.7 in May.
The index has been below the 50 mark, which indicates contraction, for all but one of the past 22 months.
The figure was higher than analysts' predictions. Germany saw output rise for the second successive month.
The eurozone has been in recession for 18 months, and Markit said that the latest data indicated that its economy would shrink by a further 0.2% this quarter.
"There are reassuring signs that the downturn is continuing to ease," said Markit's chief economist Chris Williamson.
"Encouragingly, the rate of contraction has eased over the course of the second quarter, with the decline in June the smallest for 15 months."
Germany saw its largest drop in employment since the start of 2010 and job losses also increased in France. However, elsewhere in the eurozone, the drop in employment was the smallest since October 2011.
"At this rate, the region could stabilise in the third quarter and return to growth in the fourth quarter," added Mr Williamson.