Offshore wind industry in government investment boost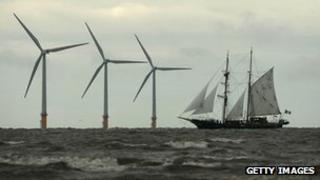 The government is to set up a new body aimed at attracting increased investment into the British offshore wind industry.
Business and energy minister Michael Fallon said the Offshore Wind Investment Organisation (OWIO) will be a joint venture between industry and government.
The body will be led by "a senior industry figure", he said,
He also announced £2m of support for three wind innovation projects.
"Offshore wind is a major success story for the UK, and we want to boost levels of inward investment", he said.
"We already have more installed offshore wind than anywhere else in the world, and this brings enormous economic benefit to our shores, supporting thousands of skilled jobs."
The government is also awarding £540,000 to Kent-based Power Cable Services to help with their underwater electricity cable technology project.
Aquasium Technology, with partners Burntisland Fabrications and TWI, will receive £769,600 towards more cost-effective manufacturing techniques.
And Cambridge-based Wind Technologies will receive £728,355 to design and manufacture a new type of turbine drive mechanism.
The UK has approaching 1,000 offshore wind turbines generating nearly 3,500 Megawatts of capacity - more than any other country in the world.
Mr Fallon is due to give details of the government plans at Renewable UK's Offshore Wind 2013 conference in Manchester.