Jockey Club raises £24.7m through bond issue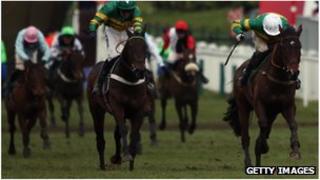 The Jockey Club says it has raised £24.7m for its Racecourse Bond, exceeding the company's expectations and its original target of £15m.
The bond offered the general public the chance to invest in horseracing.
Punters were invited to invest between £2,000 and £100,000 in the bond, which will pay a return of 7.75% through a mixture of cash and reward points.
The initial aim was to raise at least £15m for the development of its flagship Cheltenham Racecourse.
It was the first time such a bond had been offered in British sport. Such was the interest that the original closing deadline was extended by 10 days to allow further applications.
The Jockey Club said the sum raised was "a great sign of trust in the strength of our 263-year-old brand".
Interest payments on the bond will be split.
Investors will get 4.75% in cash and a further 3% in the form of Rewards4Racing points which can be used to get discount tickets, hospitality packages and racecards at the Jockey Club's racecourses.
"I believe having a clear reason for raising these funds has helped, because while guaranteeing investors healthy fixed-rate returns has been vital, people know their investment is also supporting British racing through our planned development at Cheltenham," said Paul Fisher, group managing director of Jockey Club Racecourses.