Jaguar Land Rover roars ahead to record £1.67bn profit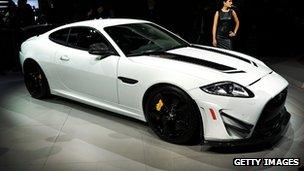 Profits at Jaguar Land Rover have roared to an all-time high.
Pre-tax annual profits at the Coventry-based vehicle maker rose 11% to £1.67bn and helped temper a 36% fall in profits at the company's parent group, Tata Motors.
Total world sales at Jaguar Land Rover were up 22% to almost 375,000 vehicles.
Jaguar Land Rover chief executive Dr Ralf Speth said the numbers demonstrated a strong demand for the company's products.
"We invested significantly in the product creation process, in our advanced manufacturing sites and created more than 3,000 jobs," he said.
During the 2012-13 financial year, the company introduced the all-new Range Rover and the Jaguar XF Sportbrake.
Net profits between January and March at Jaguar's parent company Tata Motors, itself part of the Indian salt-to-steel conglomerate Tata, fell 22.89bn rupees to 39.45bn rupees ($705m; £466m) compared to the same three months in 2012.
But analysts were untroubled by the fall in the net profit figure, given that a one-off tax gain made up a significant slice of the profits in the January-to-March period in 2012.
In addition, sales revenues were 10% higher in the first quarter of this year at 560bn rupees.