UK retail sales fell sharply in May, CBI says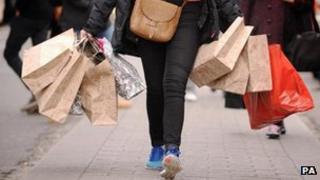 UK retail sales fell at their fastest annual pace for 16 months in May, according to a survey by the CBI.
The business group said sales of clothing and footwear fell from a year earlier as shoppers reined in spending, although grocery sales remained flat.
There was some encouragement from the survey, with retailers expecting sales to rise "modestly" next month.
The survey comes a week after official figures showed retail sales in April were 1.3% lower than in March.
The Office for National Statistics said bad weather had continued to hinder spending last month.
Feeling the pinch
The CBI said that comparing the percentage of firms surveyed who saw sales volumes rise against those who saw sales fall led to a balance of minus 11% - the worst outcome since January 2012.
However, retailers are expecting sales to pick up next month, and businesses also expect trade to improve over the next quarter.
"Retail sales growth has weakened since the start of the year as households continue to feel the pinch, with wages failing to keep pace with the cost of living," said Barry Williams, chair of the CBI distributive trades survey panel.
"There is positivity from retailers this month, however, with sales expected to rise in the coming months."