UK retail sales hit by bad weather again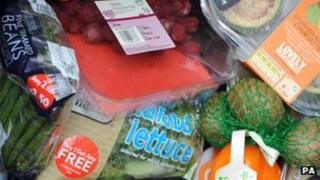 Retail sales in April were 1.3% lower than in March as bad weather continued to dent spending.
The Office for National Statistics (ONS) also said retail sales volumes last month were 0.5% higher than a year earlier, much less than expected.
The ONS said that sales of garden furniture and barbecue food were especially hard hit last month.
Total food sales plunged 4.1% in April, their largest monthly fall in almost two years.
"Feedback from large food store retailers suggested that the cold weather continued to impact on sales," said the ONS.
"In particular, the weather hindered sales within their spring and summer ranges."
At the same time, consumers used the internet to do their shopping rather than venturing outside.
"The overall proportion of non-seasonally adjusted online sales remained high at 10%, reflecting feedback from large retailers, which suggested that during the continued cold weather consumers purchased from their online sites rather than in-store," the ONS added.
Analysts had expected little or no monthly decline in retail sales.
"Retailers are not out of the woods yet. While the UK economy managed to avoid a triple-dip recession, the retail sector is still struggling to make a sustained comeback," said Peter Saville at advisory and restructuring firm Zolfo Cooper.
"Disappointing results at some of Britain's biggest chains underline the competitiveness of the market and the importance of understanding your customer base.
"However, with indicators suggesting that consumer confidence is on the rise, there is certainly an opportunity for retailers to capitalise on this and drive growth within the UK economy."