UK borrowing revised down for 2012-13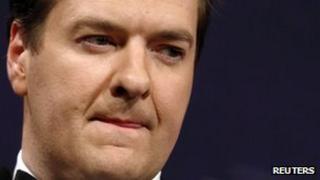 The government borrowed slightly less than first thought in the 2012-13 financial year, the latest official figures suggest.
The Office for National Statistics (ONS) said the government borrowed £119.5bn last year - down from the initial estimate of £120.6bn.
But it is still only slightly lower than the £120.9bn borrowed in 2011-12.
Nevertheless it allows Chancellor George Osborne to maintain that borrowing is falling as promised.
Borrowing in April was at £10.2bn - slightly higher than last year - but that figure excludes the effects of the government's bank bailout and the Royal Mail pension transfer.
When they are included, borrowing for the month was £8bn.
Some of the assets of the Royal Mail pension plan were transferred to government accounts in April last year.
The ONS said the revision to the annual borrowing figure was the result of higher-than-estimated central government receipts.
The largest impact was from income tax and national insurance contributions, where receipts from the financial sector were higher than anticipated.
The government wants to eliminate the budget deficit by 2017-18, but ministers concede the programme of deficit reduction is taking longer than planned, thanks in part to the continued weakness in the UK economy.