G4S chief executive Nick Buckles to step down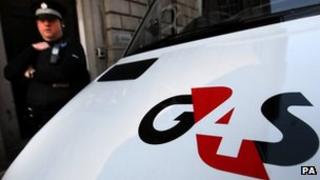 Nick Buckles, the chief executive of global security group G4S, is to step down from his position and retire from the company at the end of May.
G4S attracted fierce criticism last year after it failed to provide enough security guards for the 2012 Olympic Games.
The government was forced to turn to the military to provide extra security staff for the Olympics.
Mr Buckles will be replaced by G4S's chief financial officer Ashley Almanza.
"Nick Buckles made a massive contribution to the group over a 28 year career," said G4S chairman John Connolly.
Mr Buckles, who was forced to appear before MPs over the botched Olympics contract, had admitted the contract was a "humiliating shambles".
British troops had to be bought in to cover the shortfall and the firm said it incurred £70m of losses on the Olympics contract.
However, an internal report last year absolved Mr Buckles personally of any wrongdoing and concluded it was "in the best interests of the company and of all its stakeholders" that Mr Buckles remained at the helm.
Mr Buckles was instrumental in creating the current G4S business through the merger of Securicor and the security businesses of Group 4 Falck in 2004.