High inflation cost the UK economy £10bn, report says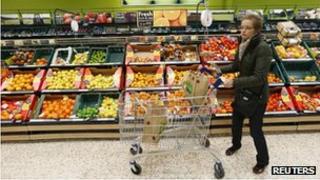 High inflation has cost the UK economy £10bn over the last three years, says an influential report.
And with inflation averaging 3.5%, instead of the government's target 2% rate, high inflation will remain "a permanent fixture", says the Ernst & Young Item Club.
This has had a "corrosive impact on the UK economy", the report concludes, as household spending power has shrunk.
The group does not expect inflation to dip below 2.5% before 2017.
Consumers have been struggling to cope with food prices that have risen 40% since 2007, as well as rising fuel and education costs. The UK High Street has suffered as a result.
Despite the economic impact, Carol Astorri, the Club's senior economic adviser said: "It could have been worse. Our modelling shows the [Bank of England's Monetary Policy Committee] were right to stick to their guns, allowing inflation to overshoot and avoid tightening monetary policy.
"The alternative scenario would have seen interest rates rise by 3.5% in 2011, choking off the recovery even earlier and adding an additional 625,000 people to UK dole queues."
The report forecasts that the consumer prices index will rise to 3% over the summer, but fall back to 2.5% by the autumn, as energy bills and food prices stabilise.
Mark Gregory, Ernst & Young's chief economist, said: "With consumer spending continuing to be curbed by rising costs and only set to improve gradually, retailers will need to battle harder than ever to win the war for our wallets."
When Mark Carney, the new governor of the Bank of England, takes over from Sir Mervyn King in July, he will face the difficult task of keeping inflation under control while also stimulating the faltering UK economy.