China's Sina sees loss narrow as revenues rise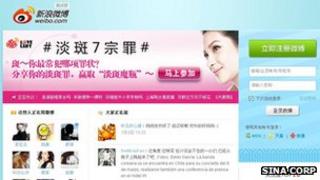 Sina Corp, which runs China's biggest micro-blogging service, saw losses narrow in the first three months of the year as revenues rose.
The net loss was $13.2m (£8.7m), compared with a loss of $13.7m a year earlier, the US-listed company said.
Non-advertising revenue, from sources such as web games and membership fees, rose 17% to $27m, beating expectations.
Sina has amassed more than 500 million users on its popular weibo micro-blogging site.
The company said it continued to see strong growth in user numbers even though the Chinese government has tightened restrictions on comments made on micro-blogs in recent months.
Sina and other internet companies have struggled with rising costs and finding ways to generate money their hugely popular products.
As more users access the internet on mobile devices, the companies are spending more money on boosting their offerings on smartphones and tablets.
In April, Sina Weibo sold an 18% stake to Alibaba Group, China's e-commerce giant, for $586m, valuing Weibo at over $3.2bn.
The deal was aimed at providing more advertising revenue as the company competes with other micro-blogging services and social messaging apps in China, including one by Tencent Holdings.
For the second quarter of the year, Sina said it expected net revenues of between $143m and $147m, above analysts' expectations. Shares of Sina were 4.7% higher in after-hours trading.