Turkey booms - but where are the Brits?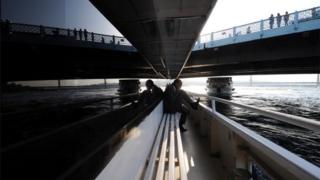 "Welcome to Europe", says the taxi driver as we cross the Bosporus from one side of Istanbul to the other.
But Turkey's largest city could not feel less like many parts of the recession-hit continent.
While many European countries have seen their international credit ratings cut, Turkey has just been upgraded.
The severe slowdown affecting the construction industry in countries like Spain is still crippling growth on the continent, while the Istanbul skyline is dotted with cranes as it enjoys a construction boom.
While the broken banking system in some European countries has left businesses and individuals unable to get the credit they want, in Turkey the banks are in solid shape and are actually expanding lending.
The country's growth rate may have fallen from 8.5% in 2011 to 2.5% last year, but it is still the sort of expansion of which most Western economies can only dream.
High growth economy
Economists at Goldman Sachs famously predicted the rise of the so-called Bric economies (Brazil, Russia, India and China) back in 2001.
The bank has now tipped Turkey to be part of the next generation of high growth economies.
"Turkey has the potential to become one of the biggest economies in Europe and globally," says Ahmet Arkali, an economist at Goldman Sachs.
"It has the right institutional framework, the right demographic profile and a skilled workforce - that all comes together to help create economic growth," says Mr Arkali.
Turkey is currently the sixth biggest economy in Europe, but Mr Arkali predicts the country could reach fourth position by 2050.
That same growth would push Turkey up from its current position as the seventeenth biggest economy in the world up to thirteenth place by 2050, according to Goldman Sachs.
So with all this potential, are British companies making the most of the Turkish boom?
Gondolas and cinemas
Standing on a mound of freshly dug soil, Cuneyt Divris, is surveying part of his fleet of British yellow JCB diggers at work on a new Venetian-style housing development just outside Istanbul city centre.
"It will have gondolas, a network of canals, a cinema and a huge shopping mall," says Mr Divris, managing director of SIF JCB, a Turkish-British partnership which sells construction equipment across Turkey.
Construction projects like this are starting up all over the capital as an emergent middle class looks to move into more modern accommodation.
And this has helped JCB's sales in Turkey to quadruple over the last four years - a sign that some British businesses are beginning to make the most of the country's boom.
"As the economy has grown, people have become wealthier and they have started to demand bigger and better houses - this has really triggered the construction industry in Turkey," says Mr Divris.
Falling rates
As the new middle class has continued to grow, so, too, has their enthusiasm for shopping.
Interest rates have been falling since last year, as the central bank attempts to stimulate more growth and ward off unpredictable flows of money from abroad.
The main interest rate was cut again this week from 5% to 4.5%.
This falling cost of borrowing has encouraged Turkish consumers to continue to spend. And spend they do.
Bagdat Avenue has been a centre of commerce and trading since the Byzantine era, linking Istanbul to Anatolia.
Today the ancient market has been replaced with a string of multinational retail chains.
Huge stores owned by Nike, Zara and Gap dominate the street, attracting shoppers from across the city.
Nestled among them is another British name making an impact on Turkish consumers, Marks and Spencer.
M&S first arrived in Turkey in 2005 and now runs 48 stores with its local business partner. And the customers keep coming - with 15 million visits last year.
The chain plays on its modern clothing collections for men and women, but as in the UK, it seems the most activity is in the more traditional area of underwear.
German dominance
But despite this success in selling both diggers and underwear, the UK still lags behind other European countries in exporting to Turkey.
The UK exported goods worth £3.7bn in 2012, well behind Italy at £8.7bn and Germany at £14bn.
Even when taking into account exports of services, traditionally a strong point of the British economy, the UK still lags behind its European competitors.
This discrepancy is partly down to economics and partly down to history.
As the political crisis has unfolded in Europe so the euro has fallen in value against the Turkish lira, making it cheaper to import goods from countries like Germany and France.
The cultural links between Turkey and Germany and France have also played a part.
The 1960s saw agreements signed to allow workers from Turkey to provide labour to the then booming West German economy.
There are now third-generation Turkish-Germans running businesses and looking to trade with the land of their grandparents.
Mobile phones and luxury goods
Despite these disadvantages the potential for exports of British goods and services is clear.
Melis Metiner has been closely watching the Turkish economy in her role as an economist at HSBC in Istanbul.
"When you look at national income, the most recent figures show that around 70% came from household spending - much of this from the new middle class," she says.
"There is immense potential in areas like electronics, mobile phones and luxury goods, all of which are not as developed as the markets in other European countries," according to Ms Melis.
The UK government has been making a fresh push this week by hosting Export Week, aimed at encouraging companies to look outside their home market.
And at the Istanbul Stock Exchange, where leading shares rose more than 50% last year, its managing director is clear that British companies can do more to get a piece of Turkish growth.
"British firms need to know Turkey is a land of opportunity," says Ibrahim Turhan. "It also gives you access to Central Asia, the Middle East and North Africa."
A renewed sense of exporting purpose is key to the UK government's aim of rebalancing the economy away from the consumer debt and towards greater trade overseas.
With Europe, the UK's major trading partner, still mired in recession, countries like Turkey are emerging as the new centres of global growth.
With growth expected to go back over 4% in Turkey this year, the scene it set for a battle among Europe's ailing economies for a piece of that success.