Wal-Mart and Asda profits edge up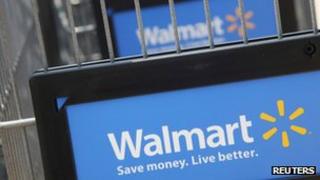 The world's biggest retailer Wal-Mart, which owns the UK chain Asda, says profits in the three months to April nudged higher.
Profits at Wal-Mart rose 1% to $3.78bn (£2.48bn) after sales in the US fell by 1.4%.
Sales and profits at subsidiary Asda, the UK's second-biggest supermarket, rose by a healthier 1.3% thanks to a range of price promotions.
Profits overall were lower than had been forecast by analysts.
The company said US sales were affected by a raft of factors, including a delay in income tax refund cheques, cool weather, lower grocery price inflation than expected, and an increase in companies' payroll tax.
Customers made fewer visits, with overall sales to its stores down by 1.8%, although once they were there, shoppers' average amount spent rose by 0.4%.
Shares in the company fell ahead of the US market opening, although earlier this week, they had hit an all-time high of $79.96 on Wednesday.
Wal-Mart said it expected the next quarter's same-store sales to see no or modest growth of up to 2%.
Separately, Wal-Mart this week said it would conduct its own safety inspections at its Bangladesh factories instead of joining an accord with other retailers, in the wake of the collapse of the nine-storey Rana Plaza building on 24 April, where more than 1,100 people died. Critics said its plan was "flawed".
'Strong performance'
Asda has been trying to regain its reputation for value by expanding its range of goods on sale at easy price points, for example those at 50p or £1.
It has also been cutting prices on essentials such as milk, eggs and bread to combat the competition offered by discount retailers, such as Lidl and Aldi.
Online sales continued to improve, rising by 16% in the quarter.
Asda's market share remained at 17.9%.
"This represents a strong performance in what remains a very tough market," said Asda's chief executive, Andy Clarke.
"Despite a difficult environment for our customers, we have continued to achieve growth."