King, Mervyn: Out for 82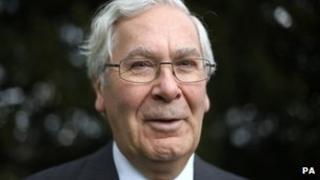 Sir Mervyn King was more direct than usual in his 82nd Inflation Report press conference - which was also his last.
He was also a little more upbeat - to the extent that he was able to say the growth outlook had got slightly better since the last report, for the first time in more than five years.
There was an added dose of transparency in the Inflation Report itself, since we were given, for the first time, concrete numbers to go with the Bank's mesmerising fan charts.
That was supposed to make it easier for journalists and the city to see exactly what the Bank's new growth and inflation forecasts are. (Previously we had to use the charts to come up with our own numbers, with a sophisticated mathematical technique involving a ruler.)
So far, this does not seem to be quite the breakthrough we thought it was. Some city forecasters, like Citi, think the Bank is now forecasting growth of 1.3% in 2013.
But looking at the same figures, many other have concluded the 2013 forecast is now 1.1%. There's a range of views on the 2014 growth figure too, though it looks pretty close to 1.8%.
Outbursts of clarity
So much for greater clarity. But we can say for sure that the GDP forecasts are higher than they were three months ago, when the Bank was forecasting growth for 2013 of 0 .9%.
And they are a fair bit higher than the City consensus, which is currently for growth of 0.8% this year and 1.5% in 2014. We have not been able to say that for more than five years.
Did we learn anything else from Sir Mervyn's last turn at this event? Nothing earth-shattering, but a few outbursts of clarity from the governor are worth mentioning.
First, on the chancellor's new remit, which the governor welcomed and said provided a welcome "reaffirmation" of the 2% target for CPI inflation, as well as possibly removing uncertainty about the Bank's room for manoeuvre in deciding how to bring inflation back to that level.
Most people would say the MPC has had plenty of discretion over the past few years. Indeed, those who've been hammered by above-target inflation, month after month, might well say the Bank has had too much.
I asked the governor whether he thought the Bank would have done better with this more forgiving remit - and whether it would have helped the economy if inflation had gone even further above target, for longer.
IMF row 'overblown'
He said the old target had given the Bank all the discretion it needed. He also said, flatly, that the MPC's policy would not have been any different if it had been following this new version of the remit all along.
If it wouldn't have made any difference in the past, you have to wonder whether it will make a blind bit of difference to policy under Governor Carney either - especially when you consider that eight of the nine members of the MPC after July will be the same as now.
Second, Sir Mervyn said the debate about George Osborne's austerity plans and the IMF had been "vastly overblown". Everyone, he said, seemed to agree that the UK and other countries needed a medium term plan for balancing the budget, plus automatic stabilisers to let borrowing respond to short-term setbacks for the economy.
Set against that big picture, the kind of adjustments being discussed in the whole IMF saga were pretty trivial.
He also dismissed European plans for a financial transaction tax out of hand, saying he had not spoken to any European central banker who thought it was a good idea. He also suggested that many of the politicians who had supported it in public were a lot more sceptical in private.
Finally and certainly most controversially, I can reveal that Sir Mervyn King today became the first senior central bank governor to publicly suggest that a country leave the eurozone. "You should come join the Sterling currency area", he said warmly, in responding to a question from a Slovenian journalist.
Unfortunately he was joking. Or at least, we are told he was joking. We may never know what he actually thinks.
Asked about Britain and the prospect of leaving the EU, the governor was less forthright.
He said it would not be right for him to share his view. It's a tough call, but that might be the least surprising thing he has said since he opened that first Inflation Report press conference all those years ago.