Japan's Nikkei passes 15,000 for first time since 2008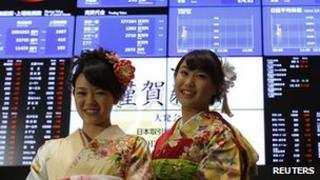 Japanese shares have climbed past the 15,000 mark for the first time since January 2008, as the yen continues to weaken - boosting the earnings potential for exporters.
On Wednesday, the benchmark Nikkei index rose 2.3% to 15,096, with carmaker Toyota and electronics giant Sony leading the gains.
The Nikkei is up 46% since the start of 2013.
Japan's central bank has embarked on an aggressive plan to weaken the yen.
A weaker Japanese currency translates into higher earnings for companies when the funds are repatriated back into the country. It also makes their products more competitive overseas.
The yen is at a four-and-a-half year low against the US dollar, trading at about the 102 mark in Asia.
The currency has declined by more than 20% since Japanese Prime Minister Shinzo Abe took office in December last year.
Mr Abe has backed the central bank's ultra easy monetary policy, which calls for pumping more money into the Japanese system.
The move is aimed at weakening the currency but also raising consumer prices.
Japan's economy has been battling nearly two decades of falling prices, known as deflation, which discourages spending by companies and consumers as they hold out for a better deal.
Shares of Isuzu Motors climbed 21% after it posted a record full year net profit of $946m (£621m), driven by strong overseas sales.
Sony shares are also surging after one of the company's biggest shareholders suggested the firm should spin off up to 20% of its entertainment business, and use the funds to shore up its struggling electronics arm.