Sharp's losses hit fresh record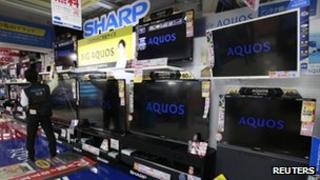 Japanese electronics-maker Sharp has reported a record annual loss, as it struggles with a high debt load and shrinking sales.
The company recorded a loss of 545bn yen ($5.4bn; £3.5bn) in the year ending March 2013.
The year before it had reported a loss of 376bn yen.
Sharp narrowly avoided bankruptcy last year after receiving a near $4bn (£2.6bn) emergency bailout from Japanese lenders.
It also sold a 3% stake to Samsung Electronics in an attempt to raise money.
Restructuring underway
Sharp says it expects to be profitable in the coming financial year.
As part of a plan to achieve this, it has already cut 10,000 jobs, is currently trying to sell off some of its overseas assets, and on Tuesday it reshuffled some of its top management.
Sharp's current chairman Mikio Katayama is set to step down. He will be replaced by the company's current president Takashi Okuda.
Mr Okuda is being promoted after just one year in the job. The appointments will take effect on 25 June, pending shareholder approval.