CVC Capital gets extra time to make Betfair takeover bid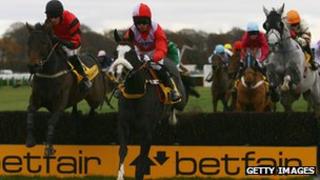 Private equity firm CVC Capital Partners has been given another 24 hours to come up with a bid for online gambling company Betfair.
The UK's Takeover Panel had set Monday as the cut-off point for CVC to either raise its initial bid of 880 pence per share, or withdraw.
But it has now extended that deadline until Tuesday, with Betfair's consent.
In April Betfair rejected the initial £912m takeover approach, saying it "fundamentally undervalued" the firm.
Betfair shares had been trading at 700p before CVC said last month it was considering a bid. On Monday the shares closed at 895p. Betfair was originally floated at £13 a share.
Last week, Betfair gave an update on its strategy for the business.
"A new management team is in place and a wide ranging restructuring has been completed ahead of schedule, allowing us to increase our cost savings substantially," Betfair chief executive Breon Corcoran said last week.
Cost savings of about £23m have been achieved by reducing the workforce by 500 people, or roughly one-fifth.
Betfair said that estimated revenue for the financial year which ended on 30 April was about £387m.
Its exchange processes more than seven million transactions a day.
The preliminary proposal from CVC and other investors - including Richard Koch and Antony Ball - offered 880p per share in cash or an "unlisted securities alternative made up of shares and loan notes in a new entity".
Mr Koch, a co-founder of LEK Consulting, holds a 6.5% stake in Betfair. Mr Ball is a non-executive director at Luxembourg-listed investment group Brait.