Post Office warned by Which? over bank account charges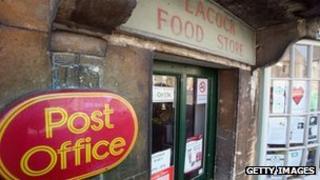 Consumer group Which? has warned that a monthly charge could discourage people from opening bank accounts at the Post Office.
A pilot scheme is being launched at 29 post office branches in East Anglia, to try out three different types of current account.
The service will then be rolled out across the country in 2014.
But those taking out the Post Office's "control" account, will have to pay a monthly charge of £5.
The Post Office says its new accounts will offer greater choice for customers, as well as a more inclusive approach to banking.
Its network of 11,500 branches across the country is also bigger than that of all the UK's High Street banks combined.
New accounts
The main bank account will be free, but two will have a monthly charge.
Standard Account: This will be free to customers while they are in credit. It comes with a debit card. Customers can apply for an overdraft and a chequebook.
Control Account: A basic account for those on low incomes, or who are new to banking. It will cost £5 a month, but there will be no further charges for unpaid direct debits and standing orders.
Packaged Account: An account that will include insurance and car breakdown benefits. It will cost £8 a month.
The Post Office says the charges will be transparent.
"Consumers tell us they feel penalised by complex and expensive bank charges and fees," said Nick Kennett of the Post Office.
"When they go overdrawn they often don't realise how much it will cost and this can have a real impact on their finances," he added.
Assessing value
However, Which? is warning that some customers may be reluctant to open accounts they have to pay for.
"The monthly charge for the new basic bank account might put off people who need this service the most, and the Post Office should think again if they find evidence of this," said Richard Lloyd, the executive director of Which?
Other operators offer free basic accounts.
Kevin Mountford, of Moneysupermarket.com, advised customers to look at alternatives.
"These accounts aren't among the market leading offers currently available, and don't offer some of the incentives available on other accounts such as credit interest and interest-free overdraft facilities," he said.
But the Post Office said some customers were discouraged from opening basic accounts, because of worries that they might be charged for a direct debit payment that is missed.
It also said that basic account customers could save up to £215 a year by being able to pay their energy bills via direct debit.
Which? also questioned how much demand there might be for the more expensive account.
Anyone taking out the Packaged Account, which costs £8 a month, "should carefully consider whether it does represent good value for money for them", said Richard Lloyd.
However, he added that an extension of choice in banking was welcome, to challenge the services provided by the major High Street banks.
"If they offer widely accessible, competitive products and good customer service, the Post Office could become a force for change in retail banking," he said.
The network
The Post Office was also keen to point out that the new accounts could support the incomes of sub-postmasters.
Last week the National Federation of Sub-postmasters said many of its members were struggling to survive.
In a survey, 51% of those who run the network of 11,500 smaller post offices said their income had dropped in the last year.
The Post Office said the new current accounts on offer would generate increased income to sub-postmasters, and support the financial future of the network.
The Communication Workers Union (CWU) is currently engaged in a campaign of industrial action, to fight Post Office plans to franchise out 70 of its main, or Crown offices.
Such Post Offices would then be run by private operators, typically other local retailers.
The Post Office says such branches are currently losing money.