Lloyds chairman Sir Win Bischoff to retire in 2014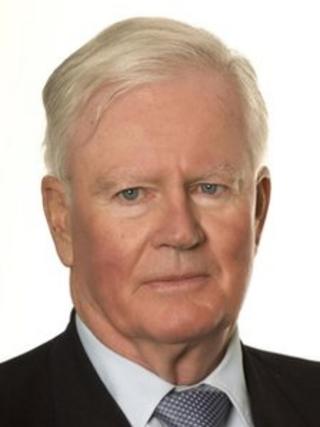 Lloyds Banking Group has said its chairman, Sir Win Bischoff, is to retire before May 2014.
Lloyds, which is 39%-owned by the UK taxpayer, said the exact date would be decided once it had a replacement.
Anthony Watson, senior independent director, will begin the search for a new chairman.
Sir Win said the bank had made "significant progress in its goal to become a strong, efficient, UK-focused retail and commercial bank".
He added: "Whilst clearly some challenges remain, the performance of the group is well on track. Indeed, in many areas, it is ahead of plan. This gives me every confidence in the future success of the group and it is therefore a good time to start the search for my successor."
Sir Win, who is 72 years old, was born in Germany, and spent most of his career in the financial sector at Schroders, which was bought by the US giant Citigroup in 2000.
He left Citi in 2009, and joined Lloyds as its chairman in September of that year.
That was after the seeds of most of the bank's problems had been sown, and he has presided over major changes at the bank.
During his time, Eric Daniels left as chief executive to be replaced by the former Santander UK chief executive, Antonio Horta-Osorio.
Branch blow
As the credit crisis hit five years' ago, Lloyds took over HBOS, the group that owned Halifax and Bank of Scotland, and the government ended up with a stake of about 40% in the new Lloyds Banking Group.
The latest quarterly results for Lloyds show its profits improved to £2bn in the first three months of the year.
However, this excluded money set aside for possible payouts to those who were mis-sold Payment Protection Insurance (PPI). The bank has set aside a total of £6.8bn to cover these compensation payments.
Earlier this month, Lloyds suffered a blow after the planned sale of 631 UK bank branches to the Co-op Bank fell through.
The sale of the branches, known as Project Verde, was demanded by European regulators as the price for being bailed out by the UK government during the financial crisis.
Lloyds is now planning to sell the branches as a stand-alone bank through a stock market listing.
The bank is also planning to shed jobs, and so far this year has announced almost 3,000 job cuts.