IAG reports bigger loss over troubled Iberia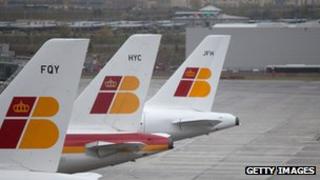 Losses at International Airlines Group have ballooned in the first quarter due to its troubled Spanish carrier Iberia.
The owner of Iberia and British Airways reported a net quarterly loss of 630m euros ($820m; £531m) compared with a net loss of 129m euros last year.
IAG is trying to turn around Iberia, which has been struggling amid the economic crisis in Spain and stiff competition from budget carriers.
It took a 311m-euro charge mainly related to restructuring at Iberia.
In the first three months of the year, IAG said total revenue was up 0.5% to 3.9bn euros, with passenger revenue up 3.9% to 3.34bn euros.
"These results are encouraging with underlying revenue strength in strategic markets. However while the first step towards restructuring Iberia has been taken, there is more work to be done," said chief executive Willie Walsh.
IAG pushed through a plan to cut costs at its Spanish unit aimed at returning the company to a 600m-euro profit by 2015. Workers at the Spanish airline staged two strikes earlier this year over 3,000 job cuts.
IAG is also planning to take over Vueling, the Spanish low-cost carrier, in which the company already holds a 46% stake. The carrier is expected to co-operate with Iberia while remaining a standalone company within the group.
The firm said British Airways had enjoyed a strong performance in the quarter thanks to a rise in business and first-class flights on its transatlantic routes.
However, IAG said it could not provide profit guidance for this year because it was waiting for shareholder approval for new planes, which could affect forecasts.
Dreamliner orders
Last month, IAG ordered 18 Airbus A350 aircraft for BA as part of a move to replace a fleet of 30 Boeing aircraft over the next 10 years.
It also agreed to buy 18 Boeing Dreamliners to replace some of its ageing jumbo jets. Mr Walsh said that the company was scheduled to take delivery of two Dreamliners by the end of June.
Analysts said that IAG still had much work to do.
"The airline is today testing investors' resolve," said Keith Bowman, equity analyst at Hargreaves Lansdown Stockbrokers.
"The restructuring process at Iberia still remains a slow work in progress, whilst rivals such as Easyjet and Ryanair continue to take advantage of prohibitive work practices still being suffered by former state airlines.
"On the upside, management is clearly battling hard in Spain, with the long term aim of establishing a major hub to expected growth in Latin America," he said.