Welcome to my page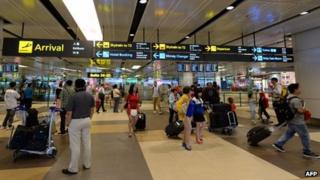 A warm welcome to my page on the BBC news website. This is where I will post my thoughts on the developments that are transforming the world of business.
I will be tracking the key trends in the global economy - and what it all means for each of us, wherever we live. This is the place where I will highlight the key trends shaping our world, and analyse those developments with global impact.
One of the main themes will be the growth of Asia and the emergence of China. That change could mean a more multi-polar world economy with growth driven fastest from the East, rather than the United States and Europe.
The world economy has changed. And that means business changing too.
For decades, the largest companies were Western. Now, half of the 10 biggest firms are Chinese, according to Forbes. Significantly, those Chinese companies are all state-owned.
It's a wider trend as well. About half of the largest listings on stock exchanges since the mid-2000s have been IPOs by companies from emerging economies, not just China but also Russia.
Here's another indicator that matters to many of us - where to find the world's best airports.
Four of the top five are in Asia, according to SkyTrax, which surveyed 12 million air passengers. Singapore comes first, while no American airport makes the top 10. Asian countries have invested to facilitate business from around the world.
Business has changed because markets have. Although just over half of the global middle class is in the West, over 40% is already in the East. The OECD estimates that two-thirds will be in Asia within the next couple of decades.
Nothing can be taken granted with forecasts. But what is evident is that doing business in countries where the state matters and markets are still developing will become more of the norm as emerging markets integrate into the world economy.
Multi-polar world
This transformation is due to greater global integration. It can be dated to the early 1990s when China, India and Eastern Europe rejoined the world economy. These new markets have contributed to an era where there is now more than one engine for global economic growth.
The most notable factor is the rise of China. The IMF estimates that the world's most populous nation will be a stronger global engine than the US has been since its 2008 financial crisis. China is much poorer than the US, but its growth rate is some three times faster.
Think of it in terms of scale. When sales of mobile devices hit 250 million in the US, it is fairly close to saturation for a population of just over 310 million. China after that level has another billion people who are potential consumers.
But a world economy driven by China as well as the US is notably different.
Despite being the world's second largest economy, average income in China is only a fraction of the US and Europe.
It may be growing quickly, but it is still a developing country. Ranked in terms of per capita GDP, China is in the bottom half of the world's economies.
It has had a remarkable three decades since adopting market-oriented reforms in 1979 - moving from a developing country with a centrally-planned economy into a major power. Both of these features are important in understanding what drives Chinese economic policy - that is, fostering continued development and managing a system where there is still state-ownership of banks, land and so on.
A key achievement is that China has lifted about half of its 1.3 billion people out of abject poverty and raised the living standards of its citizens from an average income of a mere $300 a year. Now, an estimated 150 million people have become middle class.
It is, though, not without cost. That can be seen in the high levels of inequality and the impact on the environment, among other problems.
Lagging political reforms have also generated concerns, including whether the country can adapt sufficiently to continue growing and achieve prosperity for its people.
Sustaining growth will require reforms that include a restructuring of the economy away from export reliance and towards producing more valuable goods and services. In other words, China aims to support its middle class and raise its technical know-how.
This underpins the government's "going global" strategy that has produced multinational companies seeking to become globally competitive. As Chinese firms have already entered the ranks of the world's largest companies - those whose decisions have global impact - they are a growing source of competition for the existing ones.
Developing countries in Asia has been changing along the same lines as China, particularly since recovering from the 1998 Asian financial crisis.
The 10 countries of the Association of Southeast Asian Nations (Asean) are planning a single market of sorts, which would number 600 million - a body which could eventually rival the European Union's single market. The growth of this bloc, together with similar signs of growing markets in emerging economies from Latin America to Africa, is why global business won't be the same in the 21st Century.
It means that it will be important to think about business differently. Many large companies have global strategies, but smaller ones have begun to consider how to access the new markets opening up around the world.
Understanding governments' economic policy will also be important, as some of these companies from China and emerging nations are already among the largest in the world and yet are state-owned.
The world is changing in exciting ways, and my aim is to show how business decisions taken in another part of the world have an impact on our everyday lives.
Join me as we explore this changing world together.