Nissan sees small profit rise but sales in China fall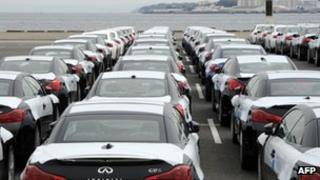 Japanese carmaker Nissan has reported a small rise in full-year profits, but sales in its key market of China fell.
Net income amounted to 342.45bn yen ($3.4bn; £2.2bn), up 0.3% from the previous year. Global revenue grew 2.3% to 9.6 trillion yen.
Sales in China fell 5.3% to 1.18 million units, with Nissan's market share down 6.5% from the previous year.
Chinese consumers were urged to boycott Japanese goods last year amid a row between the two countries.
China makes up a quarter of Nissan's global sales, and chief executive Carlos Ghosn has pledged to become a leader in electric cars in China, ploughing significant investment into the technology.
Sales in Europe decreased 7.5% to 660,000 as the downturn in the region's economy hit sales.
US sales rose 5.4%, while demand in emerging markets was strong. Overall, sales worldwide increased to 4.9 million units, up 1.4% from the previous year.
Nissan, which is partly owned by France's Renault, said it expected net profit to increase by 23% to 420bn yen in the current financial year.
Toyota and Honda both reported record sales in the year ended March. Revenue for Toyota rose 16.3% while Honda saw sales jump 32.2% year-on-year.
Their profit rise has been largely due to a weakening yen against other currencies, which inflates overseas earnings when they are repatriated. But Nissan used a relatively conservative exchange rates when calculating its latest earnings, with a dollar-yen rate of 82.9 yen to the dollar.