Barratt says market 'most positive for five years'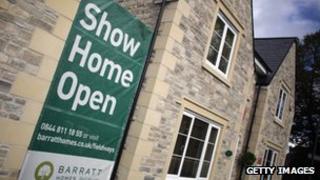 Housebuilder Barratt Developments has said market conditions are "the most positive we have seen for five years".
Higher consumer demand and improving mortgage supply led to a strong performance between 1 January and 5 May, it said, and a government scheme to aid house buyers was also helping.
Private forward sales were up 28.5% to £1bn, compared with £789m for the same period last year.
It expects a "significant" improvement in full-year operating profits.
Chief executive Mark Clare said: "Our improved performance is being underpinned by stronger market conditions."
The government's Help to Buy scheme, which provides homebuyers with a 20% equity loan towards the purchase of a property, had seen "a strong start".
Since the scheme's introduction on 1 April, "we have seen a step up in levels of consumer interest and a strengthening of sales rates", Mr Clare said.
The favourable conditions have encouraged the developer to increase land purchases, with 17,000 plots expected to be bought in the 2013 financial year, compared with 12,085 in 2012.
Barratt said it expected net debt to fall to about £100m by 30 June, down from £168m a year earlier.