Faltering economy confronts Pakistan's new leaders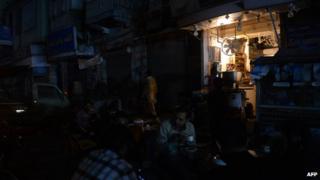 Pakistan is expected to have its first democratic transition from one civilian government to another after voters head to the polls on 11 May.
The nuclear-armed Islamic nation of 180 million people faces many challenges, including Taliban militancy, growing extremism and Pakistan's complicated ties with its neighbours and the US.
All those issues need to be handled delicately and over a period.
But one of the priorities for the new administration will be to tackle the faltering economy.
Over the past five years, the government of President Asif Ali Zardari has been widely accused of economic mismanagement.
The country has remained stuck in a cycle of low growth and high inflation, unable to create jobs for the two million people who enter the employment market annually.
Even schemes intended to provide a safety net to those needing help, such as the income support programme named after Mr Zardari's late wife, Benazir Bhutto, are regarded in some quarters as amounting to political bribery and creating a culture of dependency.
Energy crisis
But the biggest issue facing the incoming government is the worsening energy shortage, which has become the biggest bottleneck to growth.
Many of the rental power projects sponsored by the previous government are seen as little more than get-rich-quick schemes for party loyalists.
The government talked a lot about developing the country's coal reserves in the Thar Desert, but it largely remained just that - mere talk.
As a result, power cuts have increased from a few to up to 20 hours a day, especially in Punjab province.
Production costs of many factories have doubled. Those unable to cope have gone out of business.
"I think the most important problem for the new government would be to tackle the energy crisis to boost growth," says Ali Sheikh, vice-president of the Federation of Pakistan Chambers of Commerce & Industry (FPCCI).
Similarly, the acute shortage of gas has meant that queues of motorists waiting to get fuel from compressed natural gas (CNG) filling stations have been getting longer and longer, often forcing people to wait two to three hours before their cylinders are topped up.
And the everyday struggle to get fuel and putting up with frequent blackouts has become too much to handle for some people.
Public protests and lawlessness have been common in cities and towns.
Election promises
So it is little surprise that energy has dominated election campaigning.
Pakistan's former Prime Minister, Nawaz Sharif, who is seeking a third term in office, has made tackling the issue part of his political programme.
Mr Sharif is known for being fond of mega-infrastructure projects, such as the Lahore-Islamabad motorway built during his term as prime minister during the 1990s.
Last year, the provincial government in Punjab, headed by his younger brother, Shahbaz Sharif, introduced a modern bus system in the eastern city of Lahore.
So there is hope that if Nawaz Sharif comes back to power he will tackle the issue, not least because his power base, Punjab province, has been the worst affected.
Similarly, Pakistan's former cricket captain, Imran Khan, who leads the PTI party, has been critical in his campaign speeches of the previous government's seemingly half-hearted attempts to address the energy crisis and promised to tackle the shortfall.
He has the support of the country's reform-minded business executives and tycoons who have been pouring money into his campaign.
Like the Sharif brothers, Mr Khan presents himself as pro-investment and business-friendly.
He also speaks of launching a fight against corruption and wants the repatriation of billions of dollars allegedly stashed abroad by Pakistan's rich and powerful.
Monetary help
Besides energy shortages, Pakistan faces a looming balance-of-payments crisis.
The government says it intends to keep the fiscal deficit to about 4.7% of gross domestic product (GDP) in the current financial year.
However, most analysts agree that the deficit could be much higher than that.
They warn the new government may even have to get help from the International Monetary Fund (IMF) in the shape of another multibillion-dollar rescue package.
Nadeem Naqvi, managing director of the Karachi stock exchange, says tackling the ballooning fiscal deficit has to be the top priority for the incoming economic team.
"The new government will have to simplify and improve tax collection, regardless of how unpopular it might be," he says.
Mr Sheikh says the business community knows that revenue collection needs to rise and that, contrary to popular belief, it does not oppose the imposition of direct taxes.
"We are willing to pay taxes, but we expect our government to do something for the industrialists, as well as the common man," he says.
"The government must perform. It has to simplify the taxation regime."
To make matters worse, Pakistan's fragile security situation has been a big barrier to attracting foreign investment, especially in Karachi.
"Foreign investors avoid visiting us here. So often our exporters and businessmen have to go abroad to Dubai, or even Delhi, for meetings," says Mr Sheikh.
But despite all these issues and challenges, many in Pakistan feel that things can only get better.
Lifting the economy out of its current gloom will not only be a good start for the new government, but it may even provide it with a solid basis for tackling other more politically sensitive issues.