EU wants home countries to extend benefits for jobseekers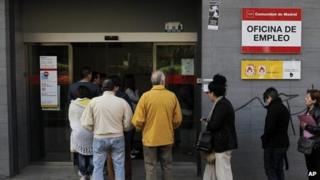 The European Commission (EC) will unveil plans on Wednesday to extend the length of time home states must support their own citizens seeking work in other European Union (EU) countries.
The plans, if agreed, would mean people seeking work outside their home country in another EU state would receive social security for six months.
At present, people are entitled to payments for three months.
The EC says this is not long enough for someone to get a job in a new country.
It estimates that it takes an average of 16 months to find work in another country.
Once the three-month period is up, people must return to their home country to reapply for unemployment support.
The Commission says this interferes with their ability to attend interviews and look for work in a country where their skills may be more in demand.
The proposal is one of 12 being put forward to encourage the free movement of labour within the EU.
The Commission has been conducting a variety of research, including a survey of 12,000 citizens, which found that 70% of those asked across the EU said they should have the right to look for work anywhere throughout the bloc.
The European Commission's Justice Department spokeswoman, Mina Andreeva, said the move was intended to ease concerns about "benefit tourism".
UK Prime Minister David Cameron has said he will move to limit certain benefits to non-nationals living in Britain.
The UK, along with other European nations, is currently cutting back on social security spending, in an effort to cut government spending in order to rein in debt.