GM gets China approval for Cadillac plant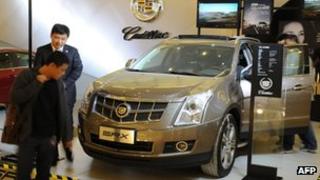 General Motors has won approval from China to build a $1.3bn (£835m) plant to make Cadillac cars in the country.
The move is a major boost for GM, which has been keen to increase its share of the luxury car market in China, currently dominated by Audi and BMW.
Manufacturing in China should help GM bring down the cost of its cars, not least because Beijing imposes a steep duty imports of luxury vehicles.
China is the world's second largest economy and its biggest car market.
Demand for luxury cars in the country has been growing as income levels have risen.
However, GM has not been able to tap into this fast-growing segment of the market. The carmaker sold close to 30,000 Cadillac cars in China in 2012, whereas both BMW and Audi sell more than 300,000 vehicles there.
Earlier this year, GM said in its annual report that "growing Cadillac sales in China is a priority".
"Our goal is to triple sales to 100,000 units within two years," it added.
The carmaker said construction of the new plant - which will have the capacity to make 150,000 vehicles a year - would begin in June.