Diageo chief Paul Walsh steps down after 13 years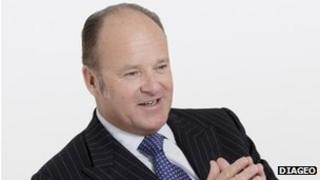 Paul Walsh, chief executive of drinks giant Diageo for 13 years, is to step down, the company has announced.
He will be replaced on 1 July by Ivan Menezes, 53, currently chief operating officer of Diageo, whose brands include Guinness and Johnnie Walker whisky.
Mr Walsh will remain at the company until June 2014 to help Mr Menezes through the "transition process".
Diageo chairman Dr Franz Humer said Mr Walsh "leaves a great legacy for his successor".
Mr Walsh is credited with building the company into a global leader. Diageo's share price more than tripled during his tenure, on the back of acquisitions including Turkey's Mey Icki and a recent deal to buy a stake in United Spirits, India's biggest liquor maker.
Faced with slow demand in recession-hit Europe, Diageo has been buying up brands in emerging markets, where the company aims to make about half of its turnover by 2015.
Mr Menezes, former president of Diageo's North American operations, was strongly tipped as the likely successor when he was appointed to the newly-created role of chief operating officer last year.
Martin Deboo, analyst at Investec, said the appointment was "not a total surprise".
"This has been a well-flagged transition," he added.