Commerzbank pushed into loss by cost of job cuts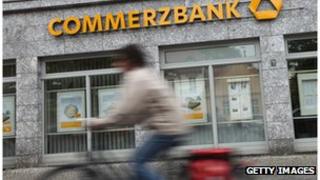 Germany's Commerzbank has reported a 94m-euro ($123m; £79m) net loss for the first quarter of the year after taking a hit from charges related to job cuts.
Last month it had warned that it would make a loss related to the cutting of 6,000-7,000 posts by 2016, a plan that was announced in January.
The loss compared with a 355m-euro profit in the same quarter last year.
The bank has been trying to turn its business around by cutting costs and shedding non-core businesses.
It said profit for the rest of this year would be "shaped by ongoing pressure on revenues" including provisions set aside for bad debt and restructuring costs. The charge related to the job cuts amounted to 493m euros.
"Although at the start of the year our customers felt somewhat less uncertain generally, as did capital market participants, it is still too soon to speak of an underlying trend reversal," chairman Martin Blessing said in a statement.
The bank also said interest income fell by 388m euros to 1.36bn due to low interest rates.
Like many banks struggling from the impact of the eurozone crisis, Commerzbank has been shedding assets. It is shutting down its loss-making shipping and real estate businesses to drive a turnaround.
Commerzbank, which has been 25%-owned by the German government since a 2008 bailout, is preparing to raise 2.5bn euros in cash from investors later this month, which is expected to reduce the government's stake to less than 20%.