Bank of America and Wells Fargo to be sued by New York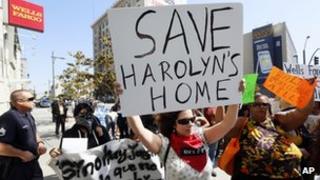 New York's attorney general has said he plans to sue major lenders Bank of America and Wells Fargo for violating a $25bn (£16bn) mortgage settlement.
Eric Schneiderman said the two had not done enough to help protect homeowners.
A total of five US lenders agreed the National Mortgage Settlement with authorities last year, designed to reshape lending practices following the collapse of the US housing market.
Bank of America said it would work quickly to address any problems.
"Through March we have provided relief for more than 10,000 New York homeowners through the National Mortgage Settlement, totalling more than $1bn," the bank said in a statement.
"Attorney General Schneiderman has referenced 129 customer servicing problems which we take seriously and will work quickly to address."
Wells Fargo declined to comment.
'Flagrantly violated'
As part of the deal, banks were required to provide relief to homeowners at risk of losing their homes and provide compensation to homeowners whose homes were foreclosed.
Mr Schneiderman said his office had documented hundreds of instances where Wells Fargo and Bank of America had failed to process refinancing requests from mortgage holders quickly enough, putting them at greater risk of foreclosure.
Ally Financial/GMAC, JP Morgan Chase and Citibank are also covered by the settlement, but were not accused of violations by the attorney general.
"The five mortgage servicers that signed the National Mortgage Settlement are legally required to take specific, rigorous, and enforceable steps to protect homeowners," Mr Schneiderman said in a statement.
"Wells Fargo and Bank of America have flagrantly violated those obligations, putting hundreds of homeowners across New York at greater risk of foreclosure.
"I intend to use every tool available to my office to hold these companies accountable under the terms of the National Mortgage Settlement."
He said he had informed the official committee in charge of monitoring the mortgage settlement of his intention to sue.
The committee now has 21 days to decide whether to pursue the case under its own authority.
'Kafkaesque'
Speaking at a press conference in New York, Meghan Faux, acting director of legal services in Brooklyn, said: "What's clear to us is that the foreclosure crisis in New York is far from over.
"It takes us six to eight court appearances over two years to get one homeowner a loan modification."
Homeowner Joyce Harden, a Wells Fargo customer, said she and her husband had been trying to get a loan modification for almost four years, and now the bank was "doing the same thing" to her daughter in Florida.
Josh Zinner, co-director of the Neighborhood Economic Development Advocacy Project, said the level of frustration among homeowners was severe.
"These are not just technicalities," he said, adding that it had been a "Kafkaesque experience for many".
Bad loans legacy
The case is an indicator of how the subprime mortgage crisis is continuing to dog US lenders five years on.
In a separate development, Bank of America earlier announced it had reached a settlement with mortgage insurer MBIA in a dispute over mortgage securities issued during the housing boom.
MBIA suffered big losses when the housing market crashed, and had been seeking damages from Bank of America.
BofA now says it will pay MBIA $1.6bn in cash along with other compensation, will provide the insurer with a credit line of $500m and take a stake of 4.9% in MBIA's holding company.