Indonesian growth at slowest pace in two years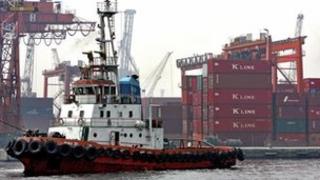 Indonesia's economy grew at 6% in the first three months of the year, its slowest pace in more than two years, as exports slowed.
The expansion was slower than the 6.1% reported in the previous quarter, compared to the same period the year before.
Last week, ratings agency Standard & Poor's lowered its outlook, citing stalled reform momentum.
Indonesia is the largest economy in South East Asia.
Last week, the statistics bureau said exports had fallen the most in seven months in March.
Analysts said the declining expectation of the global recovery led to a further weakening of global commodity prices.
Indonesia is the biggest producer of palm oil. Other commodity exports include rubber, tin and coal.
Its government has set a 2013 growth target of 6.8%.