Business rates seen holding back UK's High Streets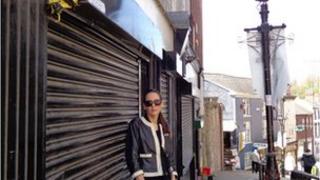 The shop is dusty, unloved and firmly padlocked on the corner of Stockport's historic Market Place, yet Maria Telford can see the potential.
If anyone can make a go of taking on one of the town's many empty shops, she can.
An award-winning independent retailer, she already runs a successful boutique, Eternal Envy, in one of the borough's more affluent suburbs, Heaton Moor.
The council is offering a big discount on the rent, along with a grant to help with set-up costs, but Maria is still not sure if she can break even.
The biggest stumbling block is the cost of business rates.
"This is going to be the biggest cost by far - bigger than our staff costs, bigger than utilities, rent, everything. In fact the business rates probably equate to the others," says Maria.
Business rates, a form of property tax, are pegged to inflation and property values.
Tumbling property values
They were last set in 2008, at the height of the property boom. But since then, rents in poorer parts of the country have fallen dramatically.
In Stockport, commercial property has tumbled by as much as a third, but there's been no correction in business rates.
The next revaluation had been due in 2015, but the government is delaying this by two years.
To make things worse for retailers, business rates went up by the biggest amount in two decades last year, thanks to inflation.
"I think we are all hoping the government will see sense and address the business rates issue," Maria says.
"Because I think this is a viable business, certainly, if the business rates were brought down to what they should be."
According to analysis by Gerald Eve, the property consultants, the government's decision to delay revaluing commercial property by two years is adding £3m to retailers' bills here in Stockport.
Just down the hill lies the Merseyway Shopping Centre, with around 100 tenants.
It is now worth a fraction of what it used to be and is in receivership - yet more evidence of how the economic climate has changed in places like Stockport, while places like London has fared better.
According to Edward Cooke, director of policy at the British Council of Shopping Centres, business rates are contributing to an uneven playing field.
"The government's decision to postpone revaluation [means] that retailers in a place like Stockport, that has struggled more than somewhere like Soho over the last four to five years, are subsidising places in Soho.
"And the same could be said for those retailers in Middlesbrough subsidising businesses in Mayfair. It's perverse."
Financial stability
The government believes what it has done is fair.
Moreover, the government believes delaying the revaluation will actually lead to more winners than losers overall.
It reckons some 800,000 business in all sectors across the UK could benefit, compared with some 300,000 losers.
"This will bring financial stability to businesses, especially certain sectors which would have seen big hikes," says Brandon Lewis MP, the Local Government Minister.
"We have got independent initial estimates published form the Valuation Office Agency which suggest that retail, overall, would have seen a tax rise of 1% above inflation. Food, retail and convenience stores would have seen significant tax increases. It is not about geography."
But it is also clear that tens of thousands of struggling high street shops will continue to shoulder more than they should.
The government recognises places like Stockport need help.
The town has been chosen to test out some of the recommendations from Mary Portas's review of the high street.
Research from Colliers International shows that Stockport and at least 11 of the other "Portas Pilot Towns" will lose out on the delayed revaluation, thanks to the fall in property values.
Brick wall
For Maria Telford, the government is simply giving with one hand and taking much more with the other:
"I just don't see the point of the government giving Stockport this money, or actually any town that needs regeneration, if they are not willing to address the urgent issue of business rates," she says.
"The Portas Pilot money is immaterial when, as an aspiring retailer, you come up against the brick wall of business rates."
It is not just Maria who is struggling to make the sums add up.
Timpson is a national retailer famous for its shoe repairs. It now has a host of brands with around 1,000 stores across the UK.
The chairman John Timpson has also considered renting out an empty unit in Stockport for his photography chain. But then decided against it.
"Years ago you could pretty much assume that the rates would be, on average, a third of the rent," he says.
"Low and behold on that particular shop, we looked at what the rates were and it was not quite twice the rent, so immediately the whole thing was ruled out.
"With every extra bit of cost we pay, either we make less profit or even worse we make no profit at all and we have to close shops, reduce the business and employ less people - so it has a fundamental effect on the economies of our business. That is why it matters."
Back at the empty shop, Maria has a big decision to make. She loves a challenge, but she also knows she has to make money.
"I love retail, I believe the high street has a future but I don't know how I'm going to overcome the issue of business rates. We are just trying to work out numbers, before we sign on the dotted line."