Birmingham City's Carson Yeung loses bid to stop trial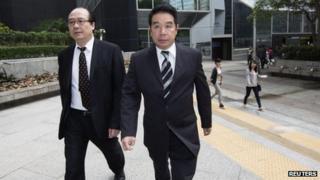 Birmingham City football club owner Carson Yeung has failed in his final bid to have a Hong Kong trial accusing him of money-laundering thrown out.
Mr Yeung's legal team has argued that he would not receive a fair trial.
The prosecution opened its case against Mr Yeung on Friday by pointing to huge amounts of money that it said had gone through the ex-hairdresser's bank accounts.
The businessman has pleaded not guilty to five counts of money-laundering.
The charges relate to funds deposited into bank accounts between January 2001 and December 2007 involving more than 720m Hong Kong dollars ($92.8m; £60m).
In 2009 Mr Yeung won a takeover battle for English football club Birmingham, paying £81.5m.
Prosecutor John Reading said that over the seven years, money was deposited into and then withdrawn from five bank accounts belonging to Mr Yeung and his father.
That included 437 cash deposits totalling HK$97.5m, cheques from a Macau casino company and deposits from and withdrawals to stock brokerages.
"Almost all of the cash deposits were made by unknown parties without any apparent reason for such deposits,'' Mr Reading told the Hong Kong court.
The amount involved was more than 300 times the father and son's combined reported income of HK$2.2m from 1996 to 2006, Mr Reading said.
At a hearing on 29 April, Mr Yeung's lawyer argued that the businessman had earned a significant portion of his income through stock trading.
Mr Yeung was arrested in June 2011. Trading in Birmingham International Holdings, the parent company of Birmingham City FC, has been suspended since then.