BSkyB to create 550 new jobs as demand boosts profits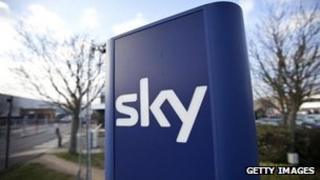 BSkyB has said it will create 550 new jobs due to strong demand for its products and services.
The group, which provides TV, broadband and fixed-line telephony services, reported pre-tax profits of £966m for the nine months to 31 March, up from £899m a year earlier.
Revenue was up 6% to £5.4bn from the year before, beating forecasts.
BSkyB said it had signed up 70,000 households in the January to March period.
This took its total retail subscriber base up to 10.8 million, with average revenue per user up £30 from a year earlier to £576.
However, the percentage of people ditching its services, known as churn, rose to 10.8% from 10.1% a year earlier, as an increasing number of households found themselves squeezed in the economic downturn.
"We have had a good third quarter and our multi-product strategy is delivering strong results," said chief executive Jeremy Darroch in a statement.
"Despite the tough consumer environment, we added 715,000 more subscription products in three months, taking the total past 30 million for the first time. On the back of this growth, we are creating 550 new jobs to meet demand for our products and serve our growing customer base."
"These results highlight the way that our successful transition to more broadly-based growth has created a bigger, more profitable business. And having more ways to grow serves us particularly well at a time when household budgets look likely to remain stretched," he added.
Out of the 550 new jobs, 350 permanent jobs will be created in Newcastle, including positions for managers, trainers and service advisors. The remainder will be in sales across the UK.
BSkyB said on-demand television downloads grew fivefold and movie rentals jumped 37% compared with the previous year.
Shares in BSkyB were up 0.65% at 850.5p in morning trade. The firm's share price has risen 20% over the past year.